#TeamLittleBites Challenge
Terms and Conditions
Offer Period:
The #TeamLittleBites Challenge ("Offer") begins on June 14, 2020 at 12:01 a.m. Eastern Time ("ET") and ends on July 26, 2020 at 11:59 p.m. ET or while supplies last, whichever is sooner ("Offer Period"). Offer open only to legal residents of the 50 United States and the District of Columbia, 25 years of age or older.
How to Participate:
To receive one (1) coupon redeemable for one (1) Little Bites product up to $5.00 in value, while supplies last, visit www.teamlittlebites.com (the "Website") and follow the instructions to (1) download the #TeamLittleBites activity sheet or create your own; (2) complete ten (10) activities with your family; (3) mark off the activities on your challenge sheet; (4) take a photo(s) of your family being active together; and (5) once you have completed your family activities, complete the entry form on the Website that includes your family activity photo(s), agree to the photo release and these Terms and Conditions and submit. Your coupon will be delivered by mail via the United States Postal Service. Please allow up to two weeks from entry form submission for coupon to arrive. Void where prohibited by law. Limit one (1) offer request per person using only one (1) email account per household for the entire Offer Period. Offer requests generated by script, macro or other automated or improper means are void. Four thousand five hundred (4,500) coupons will be available to be awarded throughout the Offer Period. The total value of a coupon must be redeemed at one (1) transaction. Any unused balance will not be awarded. Coupons must be surrendered at time of redemption. Coupons are subject to certain terms and conditions specified by Bimbo Bakeries USA, Inc. ("BBU"). Coupons expire on October 31, 2020. Coupons may not be used online or in conjunction with any other offer or discount. Valid only in the U.S.A. and are void where prohibited. Coupon recipients are responsible for all federal, state and local taxes, if any.
Photo License:
By submitting a photo in this Offer, and to the extent allowed by law, you grant the Released Parties (as defined below) a perpetual, worldwide, royalty-free, non-exclusive, sub licensable, unconditional and transferable license to edit, modify, cut, rearrange, add to, delete from, reproduce, encode, store, modify, copy, transmit, publish, post, broadcast, display, adapt, exhibit and/or otherwise use or reuse your name, photo(s), and biographical material including, but not limited to, all materials submitted in connection with the Offer in any and all media, throughout the world, and in any manner, for trade, advertising, promotional, commercial, or any other purposes without further review, notice, approval, consideration, or compensation to you or any third party.
General Conditions:
Offer may be withdrawn without prior notice. BBU, Retail Sports Marketing, Inc. (RSM), Cross Over Marketing, LLC (COM), their respective subsidiaries, distributors, affiliates, promotion and advertising agencies, and members of their immediate family (spouse and parent, children and siblings and their respective spouses, regardless of where they reside) and persons living in the same household, whether or not related, of such employees ("Released Parties") are not responsible for lost, late, incomplete, damaged, inaccurate, stolen, delayed, misdirected, or undelivered offer requests or coupons, incorrect, changed or non-functioning email accounts; or for lost, interrupted or unavailable network, server, Internet Service Provider (ISP), website, or other connections, availability or accessibility or miscommunications or failed computer, satellite, printer errors, telephone or cable transmissions, lines, or technical failure or jumbled, scrambled, delayed, or misdirected transmissions or computer errors of any kind whether human, mechanical, electronic, typographical, printing or otherwise relating to or in connection with the Offer, including, without limitation, errors which may occur in connection with the administration of the Offer, the processing of offer requests or coupons, or in any Offer-related materials. Released Parties are not responsible for injury or damage to participants' or to any other person's computer or printer related to or resulting from participating in this Offer or downloading materials from or use of the website. Persons who tamper with or abuse any aspect of the Offer, as solely determined by BBU, will be disqualified. Should any portion of the Offer be, in BBU' sole opinion, compromised by bugs, virus, worms, non-authorized human intervention or other causes, which, in the sole opinion of BBU, corrupt or impair the administration, security, fairness or submission of information, BBU reserves the right at its sole discretion to terminate the Offer and, if terminated, at its discretion, select the offer recipients from all eligible, non-suspect offer requests received prior to action taken. By participating, you agree (i) to be bound by these Terms and Conditions and the decisions of BBU which are final and binding, and (ii) to release and hold harmless BBU, their subsidiaries, affiliates, retailers, and advertising and Offer agencies and all of their respective officers, directors, employees and agents against any liability, for any injuries, losses or damages of any kind, including death, to persons, or property resulting in whole or in part, directly or indirectly, from participation in this Offer or acceptance and use of any coupon. Offer is subject to all applicable federal, state and local laws. Offered by Bimbo Bakeries USA, Inc., 255 Business Center Dr., Horsham, PA 14044.
Find Little Bites varieties at a store near you.
* indicates a required field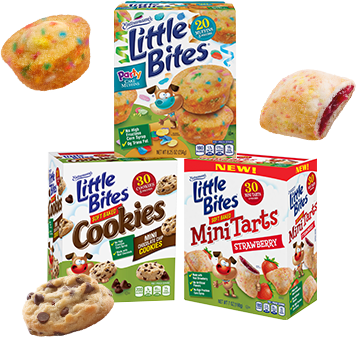 Need them now, find Little Bites varieties online!