Hole in One Father's Day Fun
Ingredients
1 Box Little Bites Vanilla Muffins
1 Large tube of green icing (or tub of white icing with a few drops of green food dye)
1 Piping bag
1 #232 decorating tip
1 Package cake pop sticks
1 Package white gumballs
Directions
Stack two Little Bites Vanilla Muffins
Insert cake pop stick through the middle of two muffins
Create a flag on the cake pop stick with a fun message to Dad
Decorate top muffin with green icing using a #232 piping tip
Top with white gumball (remove before eating to avoid choking hazard)
Enjoy with your Top Pop!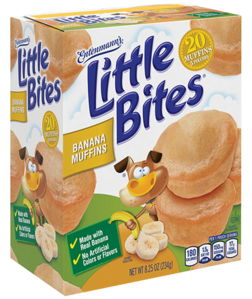 Suggested Variety
Little Bites® Banana Muffins. These golden mini muffins have lots of appeal because they are made with real ingredients like real bananas, no high fructose corn syrup, 0g trans-fat and no artificial colors. four muffins to a pouch, they are sized just right for lunchboxes, snack time, breakfast time or any time.