Ingredients
1 pouch of Entenmann's® Little Bites® Butter Cookie Muffins
1 tub of white icing
1 tube black writing gel/icing
1 bag colorful candy pieces
2 piping bags
Directions
Servings: 4 Entenmann's® Little Bites® Holiday Lights Muffins
Remove muffins from pouch
Put one can of white icing into a piping bag
Cut the tip with about a ½ inch diameter opening
Ice the muffins in an upward motion to create a tall peak
Put black icing into piping bag
Cut the tip with about a 1/8 inch diameter opening
Ice an ongoing line around the peak until you reach the top
Place colorful candy pieces along the strand
Enjoy!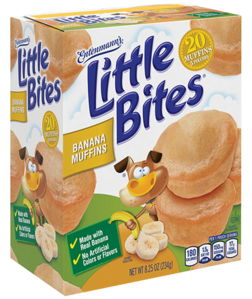 Suggested Variety
Little Bites® Banana Muffins. These golden mini muffins have lots of appeal because they are made with real ingredients like real bananas, no high fructose corn syrup, 0g trans-fat and no artificial colors. four muffins to a pouch, they are sized just right for lunchboxes, snack time, breakfast time or any time.