Mini Cinnamon Apple Crisps
Ingredients
For the crust:

1 box Little Bites® Snickerdoodle muffins
5 Tbsp. melted unsalted butter
½ tsp. Kosher flake salt

For the filling:

1 ½ tsp unsalted butter
2 Granny Smith apples
1 ½ Tbsp granulated sugar
½ tsp cinnamon
Directions
For the crust:
Preheat oven to 275°F.
Break up all the Little Bites® muffins into small pieces. Place on a baking sheet lined with parchment paper or a slipmat and bake for 20 minutes, stirring occasionally. The goal here is to dry out the muffin crumbs.
After 20 minutes, remove muffin crumbs from oven and cool. Once cool, measure out 1½ cups of crumbs and reserve the rest (it should only be a couple of tablespoons).  Place the 1½ cups of crumbs into a food processor and pulse until you have finely ground crumbs.
In a small mixing bowl, mix the finely ground muffin crumbs with the salt and butter. Set aside.
For the filling:
Peel and core the apples. Dice the apples into small pieces, about ¼ inch square.
Melt the butter in a medium sized sauté pan over medium heat. Add the apples and mix to coat with the butter. Add the sugar and cinnamon. Toss to coat, and then cook the apple mixture until any liquid that is released becomes thick (about 10 minutes).  Set the apples aside to cool.
Assemble your crisps:
Preheat the oven to 350°F.
Using a small muffin pan, press the butter and crumb mixture into each muffin holder (15), creating a crust. Bake for 12 minutes.  Remove from oven and allow to cool.
Once the crusts are cool, remove them from the pan and fill each with about a tablespoon of the apple mixture.
Top with the reserved crumbs and serve.
Compliments of divinelifestyle.com.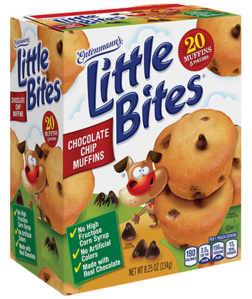 Suggested Variety
Little Bites® Chocolate Chip Muffins. These tasty golden mini muffins are made with real ingredients like real chocolate chips, no high fructose corn syrup, 0g trans-fat and no artificial colors. Packed four muffins to a pouch, they are sized just right for lunchboxes, snack time, breakfast time or any time.