Back to School DIY Bookworm Snack
Ingredients
1 box of Little Bites ® Chocolate Chip Muffins
1 box of Little Bites ® Chocolate Chip Cookies
2 containers white icing
1 tube of black icing
5 food safe colors (Green, Yellow, Blue, Orange, Pink)
5 piping bags with tip
Directions
Mix icing with specified colors (Green, Yellow, Blue, Orange, Pink)
Fill piping bags with colored icing
Ice 8 Little Bites ® Chocolate Chip Muffins (4 green, 1 yellow, 1 blue, 1 orange, 1 pink)
Create Bookworm's glasses
Place both iced halves next to each other on a green iced muffin
Using black icing create a loop between the two cookies to create the glasses
Add icing dot to center of mini chocolate sandwich cookie to create pupils
Arrange Little Bites® muffins in worm shape (alternating between green and other colors.)
Add Little Bites® Chocolate Chip Cookies to every other muffin
Enjoy!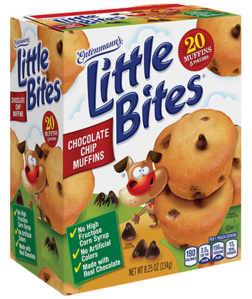 Suggested Variety
Little Bites® Chocolate Chip Muffins. These tasty golden mini muffins are made with real ingredients like real chocolate chips, no high fructose corn syrup, 0g trans-fat and no artificial colors. Packed four muffins to a pouch, they are sized just right for lunchboxes, snack time, breakfast time or any time.