Ingredients
1 Box Little Bites Banana Muffins
Banana slices
Ice Cream
Chocolate syrup
Toppings
Cherry
Directions
Place sliced bananas in bottom of bowl.
Add a Little Bites® Banana Muffin.
Scoop in favorite ice cream.
Drizzle on chocolate syrup.
Sprinkle on toppings.
Place cherry on top.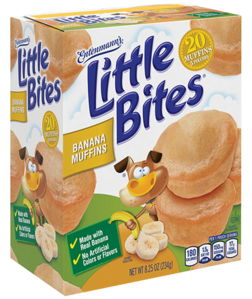 Suggested Variety
Little Bites® Banana Muffins. These golden mini muffins have lots of appeal because they are made with real ingredients like real bananas, no high fructose corn syrup, 0g trans-fat and no artificial colors. four muffins to a pouch, they are sized just right for lunchboxes, snack time, breakfast time or any time.