Chocolate Chip Muffins Cheesecake
Ingredients
1 box Little Bites® Butter Cookie Muffins or Chocolate Chip Muffins
1 1/2 cups graham cracker crumbs
1/3 cup packed brown sugar
1/4 tsp cinnamon
1/2 cup butter, melted
2 (8 oz) pkg cream cheese, softened
2 tsp lemon juice
2 cups heavy whipping cream
1/3 cup white sugar
Directions
In small bowl, stir together graham cracker crumbs, brown sugar and cinnamon.
Add melted butter and mix well.
Grease pan with butter
Press into the bottom of an 8 or 10 inch springform pan. Chill until firm.
While crust is chilling, cut each muffin in half (top to bottom) and stand muffin halves with flat side against side of pan.
In medium bowl, beat together the cream cheese and lemon juice until soft.
Add whipping cream and beat with an electric mixer until batter becomes smooth.
Add the sugar and continue to beat until stiff. Pour into chilled crust with muffin sides.
Chill several hours or overnight.
Just before serving, remove the sides of the springform pan.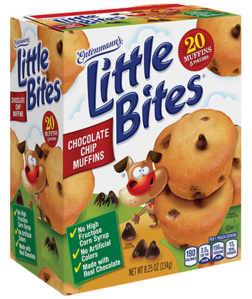 Suggested Variety
Little Bites® Chocolate Chip Muffins. These tasty golden mini muffins are made with real ingredients like real chocolate chips, no high fructose corn syrup, 0g trans-fat and no artificial colors. Packed four muffins to a pouch, they are sized just right for lunchboxes, snack time, breakfast time or any time.