Ingredients
1 pouch of Entenmann's® Little Bites® Muffins
White icing in icing bag
8 Candy eyes
4 Mini chocolate chips
Directions
Servings: 4 Spooktacular Ghosts
Place 4 Little Bites® Muffins onto plate
Decorate Little Bites® Muffins with white icing using an icing bag
Place two candy eyes on each decorated Little Bites® Muffins
Place one mini chocolate chip below the eyes (as the mouth)
Enjoy!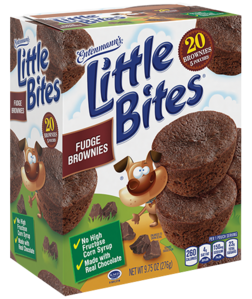 Suggested Variety
Little Bites® Fudge Brownies. These bite sized snacks are full of fudgy, goodness and made with real ingredients like real chocolate, no high fructose corn syrup, and no artificial colors. Packed four brownies to a pouch, they are sized just right for lunchboxes, snack time, or any time.