Wicked Fudge Brownie Bites
Ingredients
1 box of Little Bites® Fudge Brownies 
1 box of Little Bites® Chocolate Chip Cookies
1 package of light green candy melts 
1 tube of purple Icing 
1 tube of black icing
1 pack of candy eyes
1 pack of yellow sprinkles
1 bag of chocolate candies
2 piping bags with tip
Directions
Melt green candies in microwave (20 second increments until fully melted) 
Dip brownies in melted chocolate; cover completely
Using icing, attach candy eyes and yellow sprinkle to create nose
Pipe purple icing to create the witch's hair 5. Pipe black icing create witch's mouth
Take Little Bites® Chocolate Chip Cookie and dot with icing, add chocolate candy to create witch's hat
Place hat on witch.
Enjoy!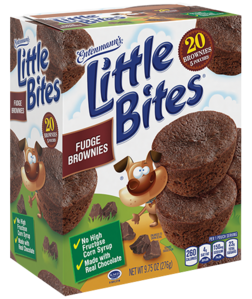 Suggested Variety
Little Bites® Fudge Brownies. These bite sized snacks are full of fudgy, goodness and made with real ingredients like real chocolate, no high fructose corn syrup, and no artificial colors. Packed four brownies to a pouch, they are sized just right for lunchboxes, snack time, or any time.