Strawberry and Vanilla Pudding Parfait
Ingredients
1 box of Entenmann's® Little Bites® Fudge Brownies
1 pint of strawberries, sliced horizontally
vanilla pudding, ready-made
Directions
In clear thin glass, add a spoonful of vanilla pudding, ready-made, to bottom of glass
2nd layer, add one Entenmann's® Little Bites® Fudge Brownies
3rd layer, add one slice of the widest part of strawberry
Repeat layers until glass is filled
Add garnish of your choice for decoration
Enjoy!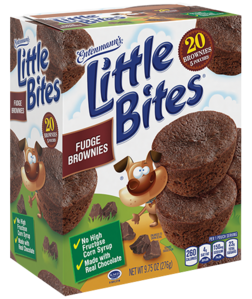 Suggested Variety
Little Bites® Fudge Brownies. These bite sized snacks are full of fudgy, goodness and made with real ingredients like real chocolate, no high fructose corn syrup, and no artificial colors. Packed four brownies to a pouch, they are sized just right for lunchboxes, snack time, or any time.