Ingredients
2 Entenmann's Little Bites® Muffins

2 slices of bread  

Sandwich ingredients of your child's choice

7 sliced pieces strawberry  

2 blueberries

1 sliced grape

1 sliced Kiwi

Cup
Directions
Servings: 1 Flower Power Sammie
Make sandwich of your child's choice

Using a cup, cut the sandwich into the shape of a circle

Place two Little Bites® Muffins under the sandwich (for stem)

Place the sliced strawberries around the bread (for petals)

Place the two blueberries on top of the sandwich (as eyes)

Place the sliced grape under the blueberries (for nose)

Place the sliced kiwi under the grape (for mouth)

Enjoy!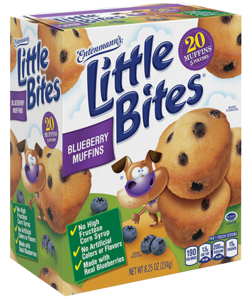 Suggested Variety
Little Bites® Blueberry Muffins. These tasty little golden mini muffins are made with real ingredients like real blueberries, no high fructose corn syrup, 0g trans-fat and no artificial colors. Packed four muffins to a pouch, they are sized just right for lunchboxes, snack time, breakfast time or any time.