Ingredients
1/2 cup unsalted butter (room temperature)
4 oz cream cheese (room temperature)
1.5 oz frozen dried blueberries ground into powder
1 cup confectioners sugar
Directions
Servings: 4 Entenmann's® Fruity Fresh Little Bites® Blueberry Muffins
Place frozen blueberries in food processor.
Pulse until blueberries turn into small pieces. put aside.
In a mixing bowl, mix butter until smooth with mixer, then add cream cheese, also mix until smooth.
Mix in pulsed blueberry.  
Add confectioners sugar 1/2 cup at a time, mix slow then increase speed until smooth.
Place in fridge for 15 mins.
Put in piping bag and pipe onto muffins.
Add flower decoration. 
Enjoy and Share!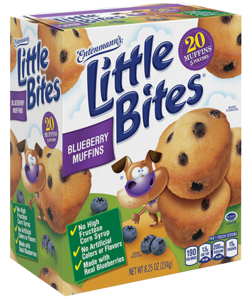 Suggested Variety
Little Bites® Blueberry Muffins. These tasty little golden mini muffins are made with real ingredients like real blueberries, no high fructose corn syrup, 0g trans-fat and no artificial colors. Packed four muffins to a pouch, they are sized just right for lunchboxes, snack time, breakfast time or any time.