Ingredients
1 Box Entenmann's Little Bites®, flavor of choice
1 Tub white frosting – separated to make each color needed
Food coloring: purple and green
1 Tube black gel
Candy Eyes
Piping Tips
Directions
Yields 15 to 20 Muffins
For Green Monster

Using an open star piping tip, pipe green frosting for fur on the whole muffin.
Add three candy eyes.

For Mummy

Using a plain round piping tip, pipe two dots of frosting and add eyes.
Pipe white frosting in a crisscross pattern to create the mummy face.

For Purple Monster

Put two dots of icing and add eyes.
Using a plain tip create the five teeth using white frosting.
Using an open star piping tip, pipe purple frosting for fur around the eyes and teeth.

For Skeleton

Cover the muffin with white icing, make smooth.
Pipe the eyes, nose and mouth using black gel.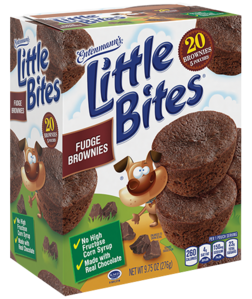 Suggested Variety
Little Bites® Fudge Brownies. These bite sized snacks are full of fudgy, goodness and made with real ingredients like real chocolate, no high fructose corn syrup, and no artificial colors. Packed four brownies to a pouch, they are sized just right for lunchboxes, snack time, or any time.